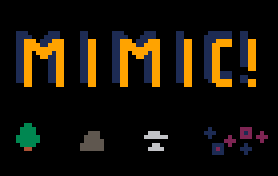 Mimic

A short puzzle game where you mimic animals to take their form.
11 levels + one secret.
Progress is saved.

Arrow keys to move
X to restart the level
P to skip levels or delete save (not recommended)

Review by Terry Cavanagh (creator of VVVVVV):
"I really like it when a game takes a weird idea and lets me discover all the funny unexpected consequences of it. "What happens when I …?" is one of the best questions a game can invite you to ask."

Game by @sourencho
Music by @noteheadmusic
Original jam prototype by @sourencho and @v3rse
Devlog: Reflections on puzzle gamedev
Lexaloffle BBS page: https://www.lexaloffle.com/bbs/?tid=46649